At last, the time has come, Marvel fans! The first official footage of the Black Panther movie is finally here!
Here is a little breakdown of what transpired in the trailer (and of course, a potential SPOILER ALERT should be noted):
In the first scene, we find Martin Freeman's Everett K. Ross in an interrogation room sitting across Andy Serkis' Ulysses Klaue, or better known as Klaw. Klaw asks Ross what he knows about Wakanda.
Next, we get a look at Wakanda. Majestic waterfalls. We see the eponymous character, King T'Challa, walking out of a Quinjet with a shield of some sort. (Could it be that of Captain America's, or his own shield?) Klaw says that explorers have been searching for the exotic country in all the wrong places, then refers to it as El Dorado (in Spanish meaning The Golden). The jet departs as T'Challa looks around at the plethora of what seems to be cheering Wakandans. Among them is Forest Whitaker's Zuri.
Cut to the next scene. Klaw says he is the sole surviving person to have seen Wakanda with his own eyes. A group of men with guns are seen venturing in the night. Two of them flash their lights on a barking dog looking up at a tree. They look up and flash their lights at the tree; it's Black Panther. He attacks them–one man is thrown forcefully at a truck, and another man is flipped over–and they shoot at him, but bullets are no match for his Vibranium armor.
Transition back to the first scene, and Klaw is laughing his butt off. He looks at a window in the interrogation room. On the other side of it is T'Challa himself and Danai Gurira's Okoye.
We then get a sequence of different events:
Another look at Wakanda, this time from the sky; tall beautiful-looking buildings as a Quinjet flies by. We get a closer look at Zuri in a scene with some Wakandan women and children. Michael B. Jordan's Erik Killmonger in a mask–along with two other individuals–breaking Klaw out of confinement. Okoye and Lapita Nyong'o's Nakia in a casino. An unmasked Black Panther/ T'Challa walking towards a group of Wakandan tribesmen, but he seems to be surrendering to them. Klaw and his men committing a crime at an art museum. King T'Challa at a World Council meeting. Killmonger in the custody of Daniel Kaluuya's W'Kabi, a confidant to the king. A group of Wakandans on a snowy mountain. Killmonger in battle. Nakia and Okoye fighting it out. A bunch of badass Wakandan weapons. Man-Ape vibes.
The trailer ends with Black Panther jumping off a blown-up vehicle and, in remarkable fashion, landing on a nearby moving car. This looks like a scene we've seen in a superhero movie last summer, and if you've seen the set photos for Black Panther, you might correctly surmise what I'm referring to.
In addition to the teaser trailer, Marvel released a pretty neat poster for the film.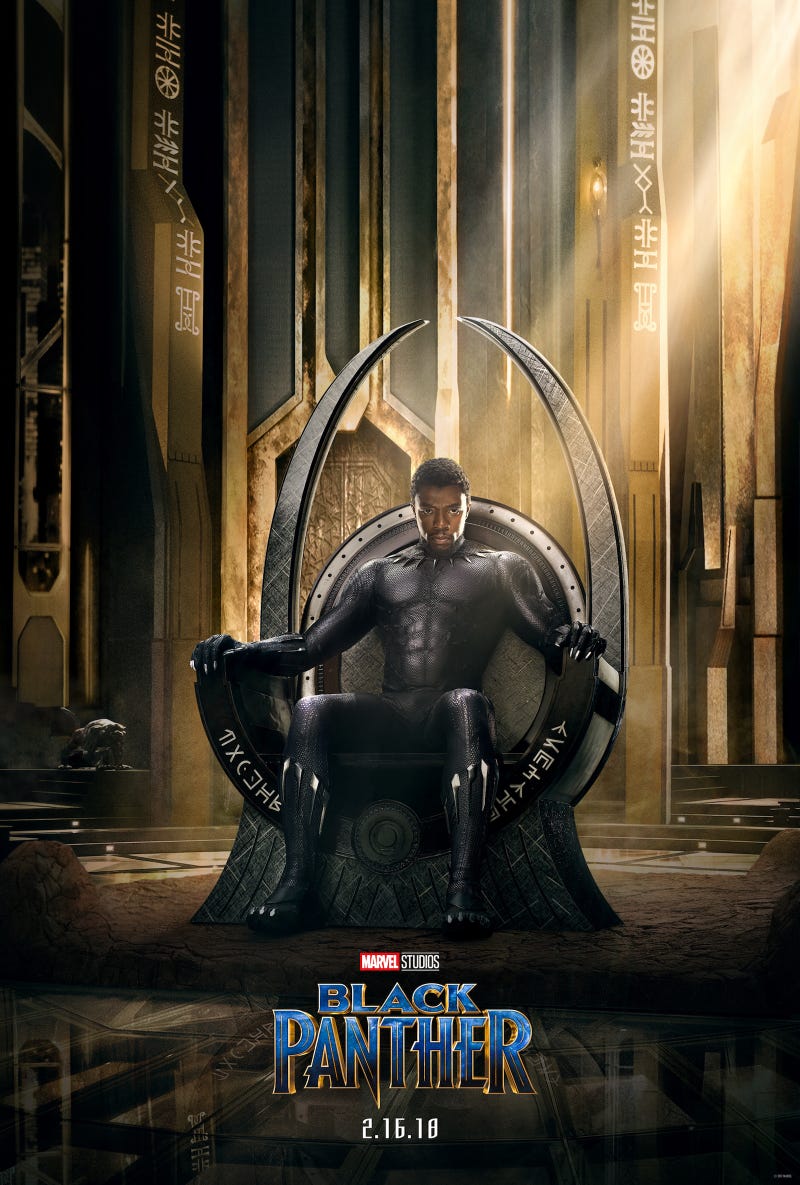 Wakandaf–I'm sorry. What kind of new adventure does Marvel have coming for us? We have yet to find out. Marvel's Black Panther, directed by Fruitvale Station and Creed's Ryan Coogler, claws into theaters on February 16, 2018.
For more Black Panther and Marvel-related news, follow Geek Motivation on Twitter!
Also, check out my article on who Donald Glover might portray in Spider-Man: Homecoming!