T'Challa, a.k.a. Black Panther, is widely known as the first mainstream black superhero and is still one of the most well-known. This is why it brings great joy to many fans that the King of Wakanda  is about to get his own film really soon. But what some people might not know is that this feline-like superhero has made quite a few appearances in film and television. So put on your vibranium claws because we're about to explore them all!
1990's 
Despite being created all the way back in 1966, in Fantastic Four #52 by writer Stan Lee and artist Jack Kirby, Black Panther didn't make any appearances on television in the 70's and 80's, despite his position as prominent member of the Avengers and ally of the Fantastic Four and his many solo adventures in the comics. This can be explained by the fact that there weren't any Avengers TV shows or films in that time period. There was a Fantastic Four cartoon in the 70's but since it's considered one of the worst cartoons Marvel ever put out, Black Panther's absence from that cartoon was for the best.
It wasn't until October 1995 that Black Panther appeared in the classic X-men: The Animated Series, in the season 4 two-part episode "Sanctuary" but as a non-speaking cameo. He appears in part 1 watching Magneto from a distance gather mutants in Africa to take to his mutant sanctuary Asteroid M. In part 2 he sees Professor X and Beast talking to Amelia Voight, once again in Africa.
In November 1995, Black Panther made his first full cartoon appearance in the Fantastic Four (1994) season 2 episode "Prey of the Black Panther", voiced by Keith David. In this episode, Black Panther lures the Fantastic Four to his kingdom of Wakanda to help him defeat his arch-nemesis, Klaw.
He made another cameo in the first episode of the cartoon  Avengers: United They Stand (1999) where he can be seen in his portrait hanging in the Avengers Mansion. Despite not appearing as a character on the show, he did appear in the comic book series based on the show. But considering this is also one of the worst Marvel- based cartoons it was for the best.
2000's 
Black Panther made his next cartoon appearance in the 2006 direct-to-video animated film Ultimate Avengers 2: Rise Of The Black Panther, a sequel to Ultimate Avengers, released the same year and also direct-to-video. He was voiced by Jeffrey D. Sams. In this film, his father T'Chaka gets killed by Kleiser, the leader of the Chitauri (the alien race that the Avengers fought on the first film). T'Challa becomes king of the highly-advanced African nation of Wakanda and seeks the help of the Avengers to defend Wakanda from the Chitauri, who want the nation's rare and powerful metal Vibranium. The Chitauri then use it to manufacture their ships. In this film, T'Challa has a power that he does not possess in other films or cartoons: the ability to turn his head to that of a panther's.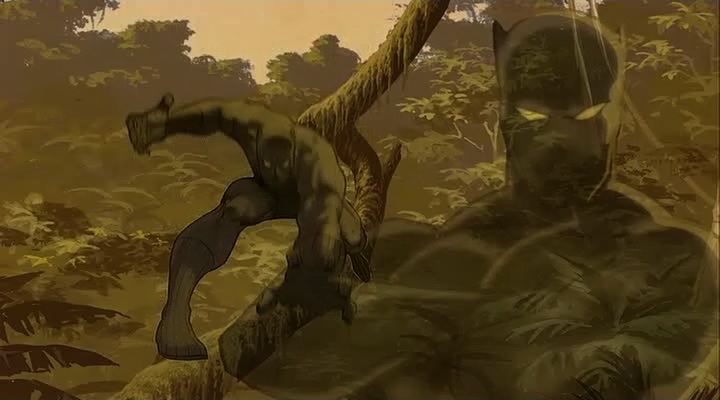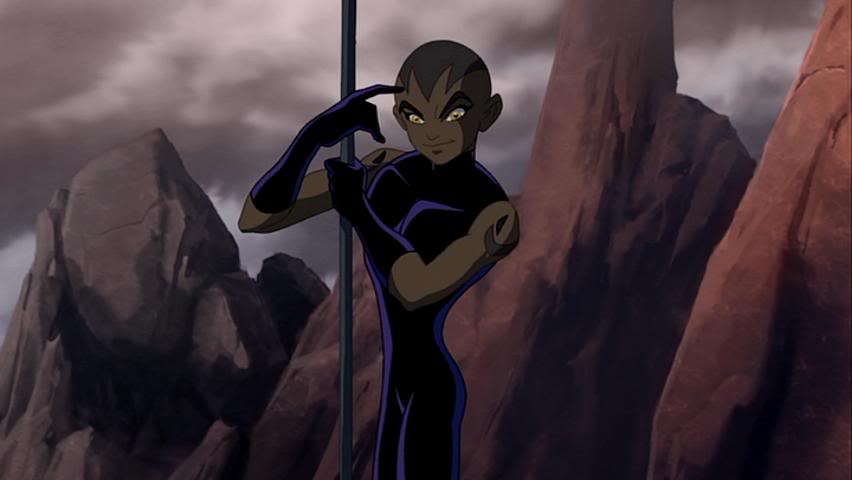 Black Panther also made a non-speaking cameo appearance in another direct-to-video animated film, Next Avengers: Heroes of Tomorrow (2007). The film is set in an alternate future, where the various children of the original Avengers, which includes Azari (T'Challa's son) must fight against Ultron, who has taken over the world.
In 2009, he was featured in the 3-D animated cartoon Iron Man: Armored Adventures, voiced by  Jeffery Bowyer-Chapman. In this episode, he comes to America in pursuit of Moses Magnum, the man who murdered his father. After getting help from Iron Man, he becomes his ally and returns in the episode, "Line of Fire" and the two-part series finale, "The Makluan Invasion". He was also voiced by Taye Diggs in The Super Hero Squad Show, a cartoon where Iron Man and a team of various heroes fight Doctor Doom and his super-villain team. In the episode, named "Tremble at the Might of… M.O.D.O.K.!" , he recruits Storm and Black Panther, who are a couple, to replace Wolverine and Hulk when they get de-powered by M.O.D.O.K.
2010's
In January 2010, Black Panther had his own animated mini-series, where he was voiced by Djimon Hounsou. The series, made by Marvel Knights Animation, was animated on motion-comic style as it was based on the comic book story arc Who is Black Panther?, by writer Reginald Hudlin and artist John Romita Jr. This storyline follows Black Panther as he must defend his country of Wakanda from Klaw and his team of super-villains. The only major difference was Rhino, who was replaced by Juggernaut in the series. It aired on BET.
Despite Black Panther not making an appearance in the Marvel Cinematic Universe until Captain America: Civil War, his appearance was hinted at in 2010's Iron Man 2, when Nick Fury shows him a map of superhuman activity around the world, with one of the locations being Africa.
Later, in 2010, he's featured in the animated series The Avengers: Earth's Mightiest Heroes, voiced by James C. Mathis III. In his first episode, "The Man in the Ant Hill" his father loses the throne of Wakanda, and his life, to Man-Ape and as a result is exiled from Wakanda (but not without taking the Black Panther costume). In later episodes, the Avengers helped him retake the throne and since then he became a regular member of the team.
In 2014, Black Panther appeared in the anime series Marvel Disk Wars: The Avengers, voiced by Mahito Oba. This is an anime that only aired in Japan where a group of kids use special discs to summon and control various Marvel superheroes to fight crime (no, I'm not making this up).
In 2016, Black Panther made his live-action debut when he starred in his first cinematic appearance Captain America: Civil War, played by Chadwick Boseman. In this film, T'Challa is introduced as the Prince of Wakanda and he attends a United Nations meeting regarding the Sokovia Accords, a law that demands that the Avengers should be put to the U.N.'s service. T'Challa watches as a bomb detonates and blows up the U.N. headquarters, killing his father T'Chaka, while in the middle of making a speech. Taking the mantle of king and wanting revenge for his father's murder, he goes after Bucky Barnes, the Winter Soldier and Captain America's best friend, who he believes to be the one responsible. This leads him align with Iron Man and his team, who are in favor of the Accords. He was pitted against Captain America and his team, who are against the Accords. In this version, his powers are toned down, with his abilities coming from his fighting skills and his vibranium suit and claws.
Later in 2016, Black Panther made an appearance in season 3 of the cartoon Avengers Assemble, titled Ultron Revolution, voiced again by James C. Mathis III and sporting a suit similar to the one his movie counterpart wears. In the episode "Panther's Rage," Black Panther steals Captain America's vibranium shield, claiming it is Wakandan property. But he and the Avengers ultimately team up to fight Klaw and his new vibranium battle suit. Later in season 4, titled Secret Wars, Black Panther leads a new team of Avengers after the old ones get scattered through timé and space.
This year, Black Panther will return (portrayed again by Chadwick Boseman) to the MCU in his own film, Black Panther, directed by Ryan Coogler. He will also appear in Avengers: Infinity War, directed by Joe and Anthony Russo. Black Panther hits theaters February 16th, 2018.
(Fun Fact: Many actors of the Black Panther mini-series' voice cast have starred in the MCU. T'Challa's voice actor Djimon Hounsou plays Korath in Guardians of the Galaxy; Alfre Woodward, who voices both Queen Mother and Dondi Reese, plays Miriam in Captain America: Civil War and Mariah in Luke Cage; Captain America's voice actor Adrian Pasdar plays Major Glenn Talbot in Agents of S.H.I.E.L.D.; and of course there's Stan Lee, voice actor of Wallace, who has a cameo appearance in every MCU film to date.)
Written by: Miguel Coelho
Sources: Comic Vine, Marvel Animated Universe Wiki
Did you like this article? What iteration of this ferocious superhero is your favorite? Share your thoughts in the comments and stay tuned for more articles about Black Panther, his comic book story arcs, and his allies and foes so you can get all caught up for his upcoming solo movie. And for more Marvel-related articles, be sure to follow Geek Motivation (@GEEKMOTIVATION) and me (@Miguel420Coelho) so you can help us change the world, one geek at a time.