With Black Panther being a huge success and cultural phenomenon, we here at Geek Motivation decided to round up some of the most iconic African American roles in film.
Wesley Snipes portrayed Blade in the Blade trilogy. Our own Tyler Siedell said, "Blade is iconic because it was not only a black character, but a well as a unknown character that managed to have a pretty solid trilogy." Our own Christian Quiles said, "Probably the first African American superhero I've ever watched. I used to sneak around the house at night and blast the movie on VHS while my parents were asleep." While the Blade trilogy isn't highly rated by Rotten Tomatoes, Blade was one of the first African American leads in a film and he was a vampire slaying machine.
Anthony Mackie plays Sam Wilson aka Falcon in the Marvel movies, specifically Captain America: The Winter Soldier and Captain America: Civil War with small appearances in Ant-Man and Avengers: Age of Ultron.  "Mainly because he's been my favorite character in the MCU since Winter Soldier," said our very own Tyler Siedell on why Falcon is the most iconic African American role to him. Falcon may not be as popular as Captain America or even Black Panther, but he was a vital character in the MCU. He is a true ally to Captain America and even sacrificed his freedom for Cap.
Daniel Kaluuya plays Chris Washington in the critically acclaimed horror film Get Out. Chris is dating a white woman and agrees to meet her parents. He notices many strange things about the family and their African American workers. This film was a special horror flick and has earned Academy Award nominations in Best Picture, Best Lead Actor, Best Director, and Original Screenplay. Kaluuya did a phenomenal job in the film and has become a fan favorite of our own John Tangalin who said, "Chris from Get Out was an excellent character because he listened to his instincts".
Storm is one of the most famous African American characters in comics. It only makes sense that she was an iconic part of the original X-Men franchise. Her powers are extremely cool, even if her famous line about lightning striking a toad is extremely cheesy.
Washington and Davis are two of the best in the business and this movie brings the two of them together. The movie is one of the most well acted and best films I have ever seen. These two are some of the most memorable roles in movie history. Their real life struggles and hardships form a grounded story that anyone can enjoy and relate to.
Django Freeman is one of the coolest western characters ever. His most famous line, "I like the way you die boy," is one of the greatest after-the-kill-lines in movies ever. Jamie Foxx brings a heroic side to the character and Django is one of the easiest characters to root for. Our own John Tangalin said, "Django was great because he would do anything for his people and for love." This is why he is relatable. Fellow geek motivation writer Christian Quiles described him saying, "He's a kick ass character, Jaime Fox brought his A game on that film. Django is ruthless, fly, and awesome."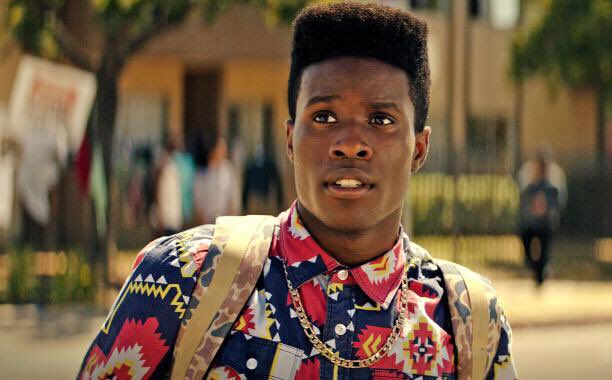 Malcolm Adekanbi is a recent, but cool character. Our friend John Tangalin said, "He is this young geek in high school who gets mixed up in the drug, gang, and criminal life after an altercation at a nightclub party. He never gave up on fixing the problem." Dope is an underrated movie on Netflix that tells the story of a great African American character.
Jules Winnfield from Pulp Fiction is one of Samuel Jackson's most famous roles and he delivers in a big way. "I think he's a staple in today's pop culture even though the film was released over 2 decades ago. The way he's an all out gangster but keeps his cool to be a threatening gentleman. The bible quotes and the way he loves cheeseburgers truly make him iconic I feel." The irony of being a gentle gangster is something that a lot of fans resonate with.
While these two characters never shared any screen time together, they are both iconic. Apollo was Rocky's first major fight, but became his best friend which made his death in Rocky IV extremely sad. Apollo's death served as a catalyst for Adonis Creed in Creed. Michael B. Jordan fantastically portrays Adonis as both a caring and kind human and a competitor trying to get out of his father's shadow.
Morpheus is famous for his smooth talking, motivation, ASMR voice that Laurence Fishburne completely emboddies. Our own Christian Quiles said, "My favorite character in all of The Matrix franchise. This guy showed The One the ropes of how the Matrix works and, to this day, still gives me chills every time I see the scene were he breaks the handcuffs and escaped Agent Smith by jumping the building and land on the helicopter." He is one of the coolest characters in cinematic history.
Nyota Uhura is one of the most famous African American women in media. Geek Motivation writer Christian Quiles said, "One of the most important character in sci-fi and tv history. She was one of the women who revolutionized the industry." Uhura helped usher in women in film, and women of color especially.
Will Smith has been in many movies. From Men in Black to Hancock, he is one of the best actors out there. My favorite Will Smith role is from Pursuit of Happyness. The film is about a man who struggles to make ends meet but consistently tries to care for his son. He struggles with no money and at times no hope. Despite this he is a hard worker who does not give up.
The movie may have just been released, but Boseman is already one of the most iconic African American actors out there. T'Challa aka Black Panther is already an icon for the world. The movie had many fantastic acting roles from other actors such as Michael B. Jordan, but T'Challa is the one who will stick with audiences and fans everywhere for a long time. Long live the King!
Written by Neil Sharma
Follow me on Twitter and Geek Motivation to help change the world one geek at a time!