It had been confirmed that one of Iron Man's villains, Ghost, was going to appear in the upcoming MCU film Ant-Man and the Wasp. In an interesting move, Marvel decided to gender-swap the character by casting Hannah John-Kamen, who is known for her lead role in Killjoys and her supporting roles in Star Wars: The Force Awakens and Game of Thrones and the upcoming 2018 blockbusters Tomb Raider and Ready Player One.
Until now though, we didn't know what she would look like in the film. But now we have our first look at John-Kamen's character in costume via set photos shared by Noticias Geek TV: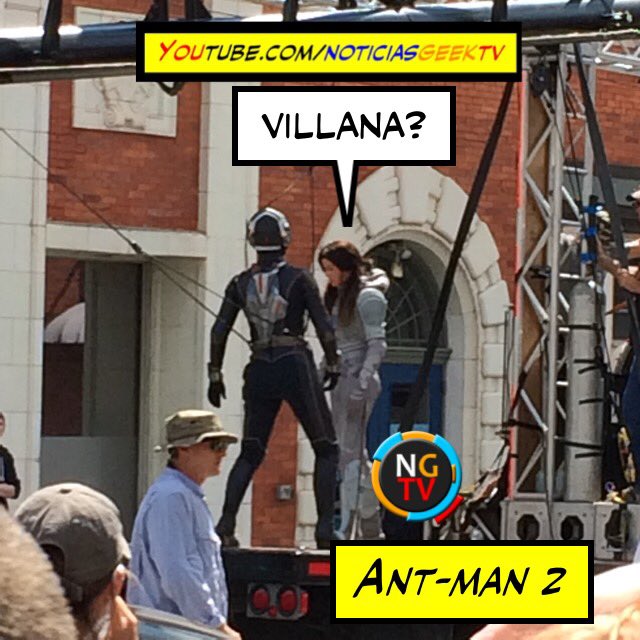 For those who don't know, Ghost is a former IT worker turned thief and hacker with the ability to phase through objects and become invisible. He's anti-capitalist and usually targets major companies to sabotage, which has put him at odds with Iron Man.
Besides the gender-swap, this version of Ghost seems to be accurate to the comics since this version is wearing a grey suit similar to the one in the comics. Ghost also seems to be in a confrontation with Hope Van Dyne aka Wasp, one of the leads of the film, played by Evangeline Lilly. If that's the case, it's sure to be an epic showdown.
Despite being an Iron Man villain, Ghost seems like a worthy candidate for an antagonist in the heist-type franchise that Marvel has built of Ant-Man. And since there's a lack of female villains in the MCU films and one of the leads of Ant-Man and the Wasp is a female hero, it makes sense to have a female villain.
Ant-Man and the Wasp is directed by Peyton Reed and stars Paul Rudd and Evangeline Lilly as the titular heroes. It will be the twentieth installment of the Marvel Cinematic Universe. It's currently filming in Atlanta with a release date set for July 6, 2018.
Written by: Miguel Coelho
Source: comicbook.com
What do you think of the MCU's version of Ghost so far? Leave your thoughts in the comments below and stay tuned for more news about the film. And for more Marvel-related news be sure to follow Geek Motivation (@GEEKMOTIVATION) and me (@Miguel420Coelho). 'Till next time!